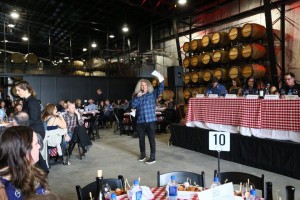 In late-February 2016 we had the pleasure of working with a new venue in Seattle, Charles Smith Jet City in Georgetown. Home to the wines of the award winning proprietor who brought his wealth of music management to an entirely new industry and seems to be rocking harder than ever. Hosting a family-style Italian lunch and meatball competition, the event felt like home – if you came from Sicily at least.
The venue sits overlooking King County Airfield and hosts a mammoth amount of space for oak and steel barrels in addition to a full event area. TEP partnered to provide sound systems and staging to support a host, celebrity judge panel, and band. Bistro lights strung from the far back across the room completed the feel of an Italian countryside lunch.
The space was unique to mix sound in, so we used a Soundcraft digital mixer with wifi to be able to roam throughout the space and tune separate zones that shifted over the course of the event. Mbrascatu was the band. A distinct Italian flair paired with indie rock gave the music a familiar and exotic sound that was perfect for an event like this. Mixing guitars and banjo over a full drum kit and electric bass with a baritone lead vocal was a pleasure and I would recommend their music whether you understand the Italian language or not.
We're looking forward to a great future of events at this venue. Go check out their tasting room if you're ever in Georgetown, the wines are also spectacular!
Photos by Suzi Pratt
by Tony Gavilanes